87th Baj of Ustad Saheb and release of the Khshnoom Digital Library
87th Baj of Ustad Saheb and release of the Khshnoom Digital Library
Roj Asman Mah Bahman, 1383 Yz.
+
Monday
, 7th July 2014 marked the 87th Baj of Ustad Saheb Behramshah Nowroji Shroff. The day's observances started with a Machi in memory of the Master at the Daremeher named after him at Behram Baug, Jogeshwari by the trustees of the Zoroastrian Radih Society.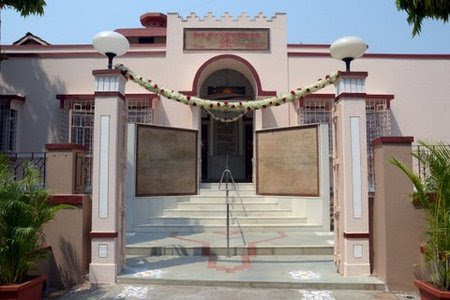 Thereafter, Afringan, Farokshi, Stum and Baj ceremonies were conducted at the Daremeher, followed by a Jashan at 
9:30 am
 which was attended by a large number of colony residents. Throughout the day, all the Machis were offered in memory of Ustad Saheb by various individuals and the Behram Baug Federation.
In the evening, the venue for the events shifted to Cama Baug. A Jashan in memory of Ustad Saheb was performed at the Cama Baug Agiary and thereafter, the day's main function commenced in the hall of the Cama Baug small Otla. Despite heavy rains, a crowd of nearly 100 Parsis had gathered in the hall.Noted Khshnoom speaker Mr. Aspi Tavadia welcomed the attendees and remarked about the absence of Vada Dasturji Kaikhushroo Navroze Dastur Meherji Rana, who was in Navsari and could not attend the function due to ill health.