A PARSI TRUPTI, PLEASE
Parsi women have tolerated discrimination for over a century, and there's no-one to fight for them.
Trupti Desai's efforts to seek equality between the sexes in matters of worship have been on the front pages of newspapers, and on prime time television. The government and the courts have backed her efforts. If men can enter the inner sanctums of Hindu temples, why can't women? The Indian Constitution guarantees equal rights.
Editorial By Jehangir Patel | Parsiana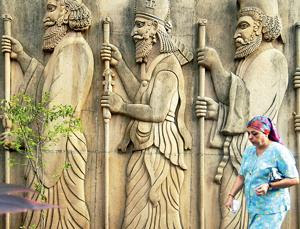 Some have suggested that the founder of the Bhumata Ranragini Brigade take her campaign to other religions as well. The mosques are open to all, but some dargahs bar women from entering the inner sanctum. Other dargahs permit entry. Desai made a symbolic entry to the 585-year-old Haji Ali Dargah but did not attempt to enter the inner sanctum.
"The trustees had decided to bar women access to the grave some time in 2011, calling the practice as un-Islamic," a news report said. "They had said they were rectifying their earlier mistake of allowing women to touch the grave."
When a journalist asked the shrine's trustee, Suhail Khandwani, "Do you mean that the Saint who is resting in peace (Sayed Peer Haji Ali Shah Bukhari) would be disturbed by women devotees but not the men?" he replied, "See, these are Shariyat laws. You can't challenge them just like you can't challenge the Constitution."
The All India Majlis-e-Ittehadul Muslimeen leader Haji Arafat Hussain went further, challenging Desai to "now try and go to a Parsi temple, then we will know if she is fighting for justice or publicity". The Bombay Parsi Punchayet (BPP) chairman, Yazdi Desai, termed the comment as "most unexpected… We hope and pray that our ancient beliefs and traditions will continue to be respected by all."
Sadly, they are being willingly respected by Parsi women, who face discrimination. If a woman marries a non-Parsi, her children are not considered Parsis, and are barred entry to fire temples, certain religious ceremonies, some gahanbars, and funerary ceremonies.
As per the judgment laid down by the Bombay High Court judges Dinshaw Davar and Frank Beaman in 1908, a Parsi can only be so termed if he or she is born of a Parsi father.
Parsi women have tolerated discrimination for over a hundred years. Why are there no Parsi Trupti Desais? How can our community today be bereft of courageous women, when in the past we had the likes of Madam Bhikaiji Cama, who first unfurled the Indian flag, Mithu Petit, who supported Mahatma Gandhi, the Captain sisters — Perin, Goshi and Khurshid — who were active in the freedom movement, and countless others who have taken up social, political and economic reforms?
We were, and are in the forefront of fighting for the rights of others, but not our own.
At the Holiday Programme for Youth (HPY), the most successful programme conducted by the BPP, a lecturer asked the gathering of around 180 students how many would be willing to marry a non-Parsi? Maybe around 15 hands went up. They were then told that at present, 37% marry outside the faith and by the time the youngsters reached marriageable age, around half of them would marry non-Parsis. This means that around 45 of the female students (assuming that the 180 students comprise 90 boys and 90 girls) who marry non-Parsis cannot raise their children as Parsis. (This year, a child of a Parsi woman married to a non-Parsi was not permitted to participate in HPY).
None of the students were aware of who Goolrookh Gupta and/or Roshni Maloo are. Both women are married to non-Parsis. Gupta is fighting in the Supreme Court for her right to enter the Valsad fire temple and be present for her parents' funerary prayers at the local Doongerwadi when they die. Till about 2005, they were permitted, but the trustees and a majority of residents then decided women who marry non-Parsis should be barred. Parsi men were exempted.
When Maloo wanted her children's navjote performed in Mumbai, she faced threats and even a possible disruption of the reception by Parsi vigilantes.
The students were asked how many discussed community issues during family meal times. Barely a hand went up. If parents and others do not inculcate an interest in community matters, can one blame the young for being indifferent? Or ignorant?
The youngsters would all have been aware of the sugar in the milk story even though that tale is pure bunkum. The narration of a handful of Zoroastrians landing on the shores of Sanjan and placing sugar in a bowl full of milk sent by the local raja to indicate the town had no room for them, does not appear in the Qisse-i Sanjan.
Nor is there any mention of a promise not to convert others to the religion as is often claimed. A book published by the Federation of Zoroastrian Associations of North America (FEZANA) explaining the religion to the young surprisingly incorporates a sugar in the milk dialog into the Qisse text. When this writer wrote to two members associated with FEZANA about this inclusion, we received no reply.
Incidentally, when the HPY students were asked if they knew about FEZANA, not a single hand went up. They were not aware of the name of the third largest concentration of Zoroastrians in the world (Iran is second). Scholars view the Qisse as a fictional and romanticised narration of the Parsis' arrival in India. One even termed it a story written to promote the Sanjan priests. All communities have their legends. There is the story of the tooth fairy, or Santa Claus riding around in a sleigh delivering toys to well-behaved children. But as one grows older, one realises these are myths. Sadly for the Parsis, many still believe these tales. That is why we are unable to shed the shackles of discriminatory traditions that target women and children. If our apathy continues, we will continue to fall even further behind other communities.
The article first appeared in community magazine Parsiana by Jehangir Patel