Houston Welcomes Udvada's Vada Dasturji Khurshed Dastoor
It began with a simple email from Ervad Soli Dastur of Florida, who wrote to some of us about Udvada's Vada Dasturji Khurshed Dastoor's visit to Dallas, Texas. This started a flurry of emails among Parsi Zarathushtis of Houston to see if the Dasturji could visit Houston as well. On behalf of the Zoroastrian Association of Houston (ZAH), a formal invitation to Dasturji Khurshed was quickly extended via Ervad Soli Dastur. In spite of the short notice and their tight schedule, the invitation was gracefully accepted by Dasturji and his wife Havovi.
Dallas is only about 4 hours' drive from Houston and Dasturji's cousin Ervad Yazdi Dastoor of Dallas, kindly offered to drive Dasturji and his wife Havovi to Houston. Here in Houston, there was no shortage of enthusiastic volunteers ready to welcome Dasturji to our hometown.
On Friday, September 9, 2016, Dasturji, Havovi and Yazdi arrived in the afternoon. Later in the evening, Dasturji was given a quick tour of the Zarathushti Heritage and Cultural Center (ZHCC) by Aderbad Tamboli, Chair of the ZAH. Over 150 ZAH Members and well-wishers were in attendance. Prior to starting the main event, the attendees got an opportunity to participate in an informal meet-n-greet session and light refreshment.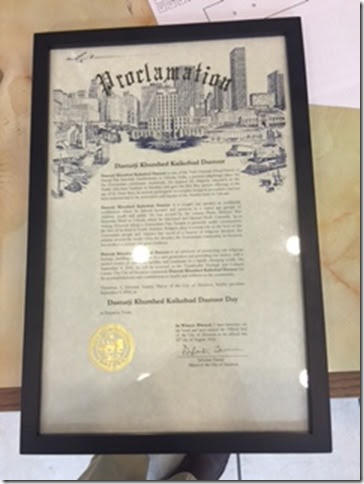 The main program started with a benediction by Dasturji Khurshed accompanied by ZAH's two youngest Ervads, Yazad Sidhwa and Neville Kanga.
The highlight of the evening was the presentation of a proclamation by Honorable Mr. Sylvester Turner, the Mayor of Houston, proclaiming September 9, 2016 as Dasturji Khurshed Kaikobad Dastoor Day. The proclamation certificate was presented by Honorable Mr. Mike Laster, Council Member District J, City of Houston.
The Dasturji's talk, accompanied by a Power Point presentation, was on the progress made in Udvada and the plans to improve its infrastructure. He started with the history behind the sacred Iransha Fire's establishment in India, the bravery, dedication and sacrifices displayed by our forefathers to protect and preserve the fire for future generations. Dasturji also talked about the support and encouragement from India's current Prime Minister Mr. Narendra Mody; to rejuvenate Udvada as a heritage place for pilgrimage and to improve accessibility. The talk was very informative and uplifting. It also enticed many in the audience to visit Udvada in the near future. Later that night, a dinner was hosted by Sanober & Aderbad Tamboli at their home, where many got to talk to Dasturji on one-on-one basis.
After spending a restful night at the home of Rustom & Yasmin Engineer. Dasturji paid a visit to Feroze & Shernaz Bhandara's home. Feroze and Shernaz have pledged to donate an Atash Kadeh to the Houston Zarathushti Community. Dasturji provided some valuable input into the design and operation of the Atash Kadeh. We hope to continue to work with him as the project progresses. Later, a lunch was organized at Ervad Khushrav and Manek Nariman's home. Dasturji addressed a group of about 12 Ervads including 4 young navars and answered many questions during an hour and a half long meeting. Dasturji's message to continue to maintain peace and harmony in the community was very much appreciated.
Although, Dasturji Khurshed could only be with us for less than 24 hours, we all felt that a lot was accomplished. An official invitation to Dasturji was extended on behalf of the ZAH to come back for the opening of the Atash Kadeh. We at the ZAH hope to see Dasturji Khurshed visit us often in Houston.
By arZan on Sep 15, 2016 11:20 pm