SMRITI IRANI'S DIWALI GIFT TO UDVADA
No marriage ritual is complete without paying homage and seeking blessings from our 'Pak Iranshah Atash Padshah Saheb' in Udvada. And how wonderful it would be if our trip to our sanctum sanctorum got even more comfortable! After PM Narendra Modi affixed the prestigious title 'Pavitra Yatra Dham' (Cultural and Heritage Center) to Udvada, it is now our current Union Cabinet Minister of Textiles, Smt. Smriti Zubin Irani who took yet another progressive step forward!

PT

Special Correspondent Delaveen Tarapore presents a detailed report from Udvada.
31st October, 2016 marked the New Year of the Hindu calendar, but few know that this date is also the birthday of Sardar Vallabhbhai Patel – the first Home Minister of Independent India. On the occasion, Textiles Minister, Smriti Zubin Irani commenced her tour with the inauguration of the newly constructed Police Outpost at Udvada, opposite the Zoroastrian Information Center, at the behest of Udvada's Vada Dasturji Khurshed Dastoor, on behalf of the villagers as well as the community. Irani said, "The smooth functioning and running of every police station comes under the periphery of the Home Ministry, and I feel truly honoured to have inaugurated this Outpost on the very birthday of the first Home Minister of India, Mr. Vallabhbhai Patel".    The inauguration was attended by local Member
of Parliament (MP), Shri. Dr. KC Patel and Member of Legislative Assembly (MLA), Shri. Kanubhai Desai.
For us Parsis it was double reason to celebrate as Smt. Smriti Irani also promised to take upon herself the complete welfare and progress of Udvada, as the convoy further moved to attend a function at Seth PP Mistry School, next to Udvada Gam Panchayat office. This decision is a result of the rural development programme, 'Sansad Adarsh Gram Yojana' launched by PM Narendra Modi in 2014, which necessitates each Member of Parliament  to choose one village each and convert it into a model town, by fixing certain parameters. Towards the same, a twenty-three pointer p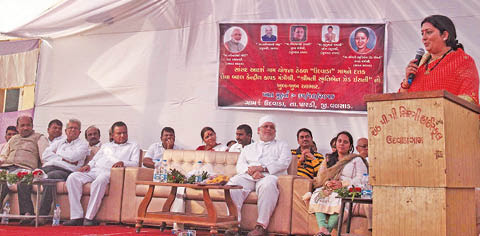 roposal was read out for the welfare of Udvada, including:
The proposal for primary medical health clinics.
Separate vegetable and fish markets.
Construction of a fuse gate near the sea in order to constrict the sea water from entering the village during high tide and heavy rainfall.
The construction of two gates at the entrance of Udvada Gam (which begins after the Doongerwadi area), for which funds have already been sanctioned to the Foundation for Development of Udvada (FDU).
What will seem particularly appealing to the community is the declaration to install 'free wi-fi' and 'CCTV cameras' with immediate effect. Irani concluded by sanctioning Rs. 50 lakhs on the spot, for the construction of a new school building at PP Mistry School (event site) replacing the current one.  Speaking to Parsi Times, Vada Dasturji Khurshed Dastoor said, "It was certain that Udavada would be Smriti Irani's choice of a visionary village, due to her love for the Parsi community. Ever since her visit with then Chief Minister of Gujarat, Narendra Modi back in 2011, Smriti visits Udvada twice a year and has always been associated with various development. She is always ready to undertake and execute progressive and constructive measures for our holy town."
The extended weekend evening saw Smriti Irani visiting Dasturji Khurshed Dastoor's house along with the MP, Dr. KC Patel, MLA Kanubhai Desai, Collector Raamya Mohan and Superintendent of Police, Valsad District, Prem Veer Singh, as a mark of respect.