Reviving the legacy of 'Gara', exquisite embroidery of Parsis
Reviving the legacy of 'Gara', exquisite embroidery of Parsis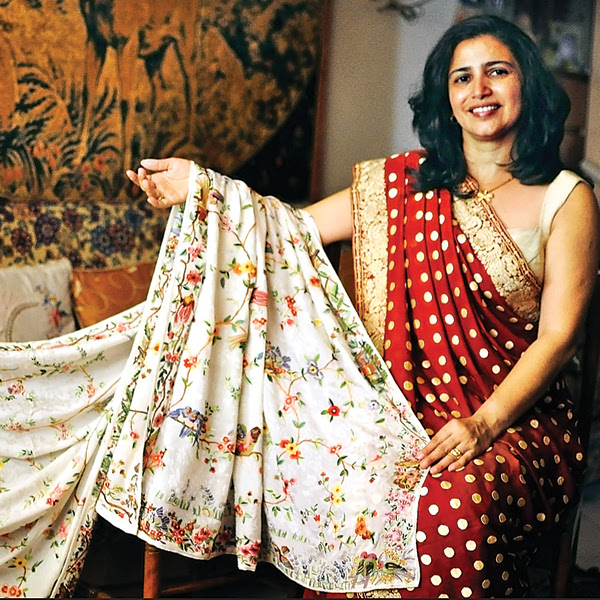 It took designer Zenobia Davar nearly six months to create this white garas
Photos: Anuja Gupta
"I lose my sleep if I do not get it right. I rip open all the stitches if they aren't perfect," says Zenobia Davar, as she talks about her passion for the Parsi gara embroidery.
Ever since she was a little girl, the 47-year-old fashion designer remembers being drawn to the embroidery. "I would spend my summer vacations helping an old Parsi lady in our colony with her embroidery work," says Zenobia. Today, this mother of three happily spends upto six months working on a gara — the exquisitely embroidered six yards of fabric, that can cost as much as Rs 1 lakh and more.
Zenobia displays a white tapestry with a riot of colours in which confronting parrots perch on twines amid multi-hued foliage. You don't have to be an expert seamstress to understand why the gara commands the equivalent of a luxury Mumbai apartment's EMI — the stitches are perilously close, the shading is seamless, the Chinese knots (khakha stitch or the Forbidden knot for it was known to cause blindness) are painstakingly small and the motifs are so fine and detailed that the work almost ceases to appear as embroidered. "It's painting with a needle," chips in Zenobia.
A centuries-old tradition
The story of the gara is one punctuated by as many influences as the motifs it showcases. It is also largely because of these influences that the gara now belongs to a class of vintage that is so rare to come by that women from one generation pass their saris on to the next.
Legend has it that Parsis, fleeing Persia to avoid persecution at the hands of Muslim invaders, found refuge in Sanjan in India in the 8th or 10th Century. As they settled across Gujarat and western India, many Parsis ventured into sea trade with Chinese merchants. Business, largely in opium, meant Parsi men often travelled and stayed in China. When they returned home, they brought back six yards of fabric, embroidered on all four sides, as gifts for their women. But contrary to popular belief, the gara is not entirely a Chinese creation.
"Gara is the result of an inter-cultural amalgamation," says Dr Shernaz Cama. The director of Unesco Parzor Foundation along with Delhi-based textile and fashion designer Ashdeen Lilaowala, has been researching the history and origins of the gara for the past 12 years. "The silk fabric was certainly from China as was the craftsmanship, but the embroidery and the motifs were heavily influenced by Iran's Zorastrian and by India's Hindu cultures. Eventually, it also made space for European influences."
While pagodas, dragons and figures of men and women were local Chinese influences, many other iconic motifs, such as the rooster, peonies, the 100-petalled rose and the paisley came from Iran. "These were inspired by nature. Many (motifs) come from the Zorastrian book of creations, the Bundahishn. For instance, the rooster is a symbol to ward of evil, and is almost always embroidered into children's jhablas," reveals Dr Cama. "From the Indian repertoire, the garas took the peacock, lotus and ambi (a variation of the paisely) motifs among others."
This cross-cultural exchange occurred in two ways; nearly 100 years after Parsi men first went to Hong Kong and Canton (present-day Guangdong), their women started to travel there, began documenting the Chinese craftsmen's work and giving them their own embroidery patterns. "Back home, Parsi women, for whom embroidery and Kusti weaving were an integral part of life, started to create their own designs for garas, which were increasingly being made closer home with the advent of the Surati ghat fabric," says Dr Cama, who has contributed a chapter on the gara for Copenhagen University's Global Textile Encounters, 2015.
 A fluid form
His earliest memory of the gara is watching his mother in one when he was about eight years old. Enchanted by its beauty, the 34-year-old Ashdeen Lilaowala has ended up spending a better part of his adult life trying to piece it's history together. In the pursuit, he has travelled across the country, to China and to Iran, meeting hundreds of women who have opened up their wardrobe doors and their family histories to him.
"And yet, even after all this time, we come across nuggets of information or new motifs that link to or add up to what is already known about the gara's history," says Lilaowala. "It's fluid design and form is what makes it appealing."
The gara had its heyday in the late 19th and early 20th century by which time, under Parsi patronage, it came to be recognised as the 'Parsi sari'. The shifting socio-political premise of the mid 20th century altered the gara's script so drastically that it passed into near oblivion. "There were several factors which lead to the disappearance of the gara. Women started to wear chiffons and georgettes, brought here by the Europeans. These fabrics didn't lend themselves to gara work in the manner that the durable silks did. Also, Parsis, who were at the forefront of India's freedom struggle, traded their garments for khadi during the Swadeshi movement," explains Dr Cama. "By the time India won her freedom, women were beginning to take employment, which had a bearing on the clothes they wore."
Infusing new life
The late Naju Daver is widely credited for putting the gara back in the spotlight. "My mum was the pioneer for the revival of the gara saris," says Naju's daughter, Farzeen Daver-Boomla. "She did so when she was trying to salvage one of granny's old gara, which was in tatters. It had beautiful embroidery on it but the fabric was giving way. Mum was trying to save it and as a result re-created the embroidery. That's when she wanted to also bring an awareness in our community for people to value the garas they possessed instead of cutting them up for cushions and curtains."
Efforts by Naju Daver and others, notably the Sir Ratan Tata Institute and a handful of Parsi women, such as Roshan Davar, in the last few decades has seen the gara gradually emerge from obscurity to now basking in global attention. In August last year, Cherie Blair (CBE), a lawyer, philanthropist and wife of former UK prime minister Tony Blair, took garaembroidered frames from Zenobia. "She took one for the British High Commission's office in Delhi and the other one is in her London office," says Zenobia, who has been custom-making garas for more than a decade.
Adds Farzeen: "The attitude has changed now. Women do realise that it's a piece of art and a must-have in one's trousseau."
Air of modernity
Lilaowala credits non-Parsis too for patronising the embroidery, adding the work can rightfully be considered an art form. His thought is echoed by Priti Karwa, a Marwari, who treasures her four custom-made kor (border) garas, agrees. "The motifs in the old Chinesegaras, with patterns of everyday sights, tell us visual stories about how times were then. It is unlikely to find something similar now," she says. "The finesse of the old gara work was due to the 'bal' twisting of the thread. The same twisting is done now too, but the threads are so much thicker."
Indeed, while gara designers do follow the rigour involved in the embroidery, modern day trappings are hard to avoid. All the ingredients that make a gara, a gara have evolved with time. The fine silk threads used to do the embroidery with and the Chinese silk fabrics that served as canvasses are now rarely available, if at all. The motifs too are changing as the inspiration, often desired by clients, is not restricted to the gara's original repertoire.
Designers such as Lilaowala and Zenobia not only make gara saris and jhablas but also create the embroidery on jackets, kurtis and dupattas — something that the purists don't necessarily agree with. "There are some who would like to see the embroidery on kurtis, etc but the work which can be embroidered on a six yard fabric, or 'labour of love' as mum used to call it, has its own charm and beauty," says Farzeen. "Besides, you can't hand down a kurti or a blouse as sizes and styles differ. A sari is a classic and thus considered an heirloom."
Gara is a kind of embroidery, originally done on saris and primarily comprising the khakha stitch (also called the Forbidden knot), the French knot and long- and short-stitches. The work is extremely precise and fine with the stitches done very close to each other. Common gara motifs include birds (especially roosters, parrots and peacocks), flowers (peonies, roses, lilies), pagodas and dragons.
Earlier, dark-coloured Chinese silk fabrics, especially in the purple-to-violet belt, typically formed the tapestry while the embroidery was in shades of cream. These days, the gara is often machine-embroidered on lighter fabrics, such as georgettes.
1) Sir Ratan Tata Institute, Hughes Road, Mumbai: 66236969
2) Naju Daver Creations, Forjett X Lane, Mumbai: 23862640
3) Zenobia Daver, Parel, Mumbai: 24106568
4) Perveez Aggarwal, Fort, Mumbai: 40509334
5) Ashdeen, Green Park, Delhi: 9999388442
Sunday
,
22 March 2015
 | Place: Mumbai | Agency: dna | From the print edition
Marisha Karwa