Application for Return to Roots 2016
Zoroastrian Return to Roots is pleased to announce the opening of applications for Return To Roots 3 scheduled for 9-

22 March 2016

.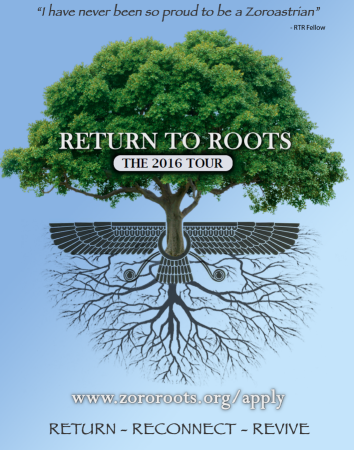 This tour will be run as a Track A itinerary i.e. applications are open for all Zoroastrians who have a Zoroastrian father and who have had their navjote. Please see this link for the criteria for Track A.
If you are an applicant who has had their navjote and with a Zoroastrian mother (not a Zoroastrian father) and would like to apply for this tour please contact usdirectly.
Applications from any part of the world, including Indian born and based participants, are encouraged.
The itinerary will respect local customs and traditions of the religious and cultural institutions we visit in Delhi, Mumbai and Gujarat and be customised accordingly to accommodate and include all our applicants.
The tour in 2016 will overlap with a series of exhibitions and events being organized by PARZOR and the Government of India in New Delhi around March 21st 2016.
Before you begin the application process please read through our FAQ Section to address common questions and criteria for application.
Acceptance decisions will be made on a rolling basis. The first round of decisions are expected to be made byDecember 1, 2015, and you will be informed as soon as possible. If you require an expedited decision due to work commitments and acquiring enough leave for the tour please let us know.
Applications close on February 15, 2016.
We encourage applicants to apply before the deadline and approach one's local community members and associations for funding and sponsorship.