1892-93: PARSEES BEAT EUROPEANS TO WIN FIRST EVER PRESIDENCY CUP
The Parsees formed a strong team, toured England in 1886 and 1888.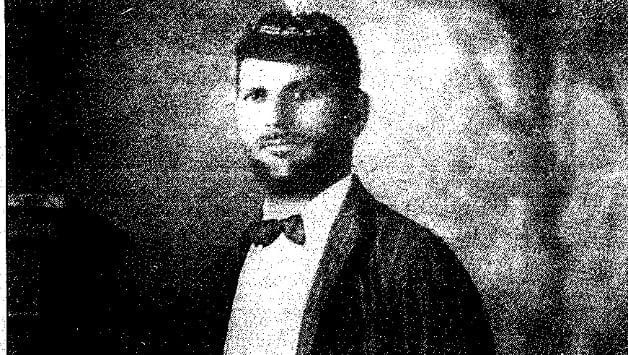 ME Pavri led Parsees to the first Presidency Cup title. Picture Courtesy:
 Stray Thoughts on Indian Cricket
, JM Framjee Patel
The first Presidency Cup was a two-match affair, and interest around the second match soared following the rain-washed draw at Bombay Gymkhana. When Poona Gymkhana hosted the second match, the contest was already the talk of the nation. Abhishek Mukherjee re-lives September 21, 1892, when the Parsees created history.
The Parsees, as mentioned before, were the first Indians to take to cricket. They formed a strong team, toured England in 1886 and 1888, and were strong enough to beat GF Vernon's XI in 1889-90. The two British Gymkhanas, in Bombay and Poona, found them a difficult opposition. They combined to form a team called 'Europeans' to take on the Parsees in what would be called the Presidency Match, the first in a long, long series. In retrospect, the matches were also given First-Class status.
The first match at Bombay Gymkhana seemed to be evenly balanced at stumps on Day One, with Parsees on 54 for 4 after Europeans were bowled out for 104. Unfortunately, Bombay rain prevented any subsequent play, which meant the match at Poona Gymkhana was the decider.
Mehallasha 'ME' Pavri was retained as leader. DF Dubash was left out in favour of DE Modi (of no relation to RE Modi). Another curious change was the appointment of RD Cooper as wicketkeeper instead of DD Kanga (both men played both matches).
The Europeans left out the Gloucestershire speedster Arthur Newnham (who had top-scored and taken a wicket in the Bombay match), Edward Cox, Francis Rhodes, and William George. In came Alfred Wilkins, Thomas Usborne, Charles Carnegy, and Henry Anderson. Frederick Sprott was retained, but Usborne donned the big gloves.
Most significantly, Ernest Steel was replaced as captain by John Trask, the Somerset batsman. Just like Steel, Trask won the toss and elected to bat.
A day of 20 wickets
Steel and Trask got the Europeans to a fine start, adding 36 for the opening stand. They scored 18 apiece, but fell in quick succession. The Europeans recovered to 63 for 2, but once again there was a double blow. Once again they recovered to 84 for 4.
Pavri rose to the occasion, clean bowling Sprott, Ernest Raikes, and Usborne in quick succession. The Europeans never recovered as RE Modi came back to clean up the tail. Both men claimed three wickets each, and the Europeans were bowled out for 108 with six men going into double-figures but none making to 20. It may not seem a big total in the 21st century, but given the range of scores in India at that time, it was substantial.
The Parsees put up an almost identical show: 'Jessop' Machhliwala and MD Kanga added 29 before Raikes snared both. The Parsees reached 58 for 3 before Raikes took over again. Just like Pavri, Raikes scythed through the middle-order, clean bowling BD Gagrat, DD Kanga, Pavri, Cooper, RE Modi, and Shapur Spencer.
The Parsees were reduced to 58 for 7 before some late-order batting took them to 101. Seven men reached double-figures, but once again, none of them managed 20. Raikes had bowled unchanged for 25 five-ball overs, taking 7 for 34.
Stumps were taken as the Parsees were bowled out. They trailed by a mere 7. A keen contest awaited the Poona crowd.
The Bapasola-Writer show
Nasarvanji Bapasola (left) and Dinshaw Writer were the architects of the decider of the first Presidency Match at Poona. Picture Courtesy: 
India's Hambledon Men
, Vasant Raiji
Dinshaw Writer bowled medium-fast with his left hand. Lord Harris first saw him when he toured England in 1888. In A Few Short Runs, the great man would later call Writer "nearest to a First-Class English professional bowler." From 13 First-Class matches he would claim 60 wickets at a freak 8.95.
Nasarvanji Bapasola was another matter altogether. He played the occasional blinder, was safe at slip, and bowled persistent off-breaks. His numbers, 411 runs at 19.57 and 39 wickets at 15.51 from 15 First-Class matches, make impressive reading. He also taught at Rajkumar College, Rajkot, from where both KS Ranjitsinhji and KS Duleepsinhji graduated.
But above all, Bapasola was a character, a crowd-puller, and, to quote a line used by many a cricket fan, lived for cricket. From his childhood days he used to bunk school to watch cricket despite there being a fine.
Vasant Raiji mentioned an incident in India's Hambledon Men: "On one occasion, fearing that he would not be allowed to leave the school and being very anxious to see a game being played at the maidan, he fearlessly walked up to his teacher's table and placed there an anna saying: 'Here, Sir, is the usual fine of one anna, as I am going to see the match,' and he walked out of classroom to the surprise of all."
On this day, Bapasola and Writer, off-spinner and left-arm pacer, combined to pull off a historic victory.
MD Kanga removed Trask early, but out walked the Hampshire batsman Robert Poore, only man in the match who would go on to play Test cricket. Poore added 21 with Steel and 19 more with Wilkins before Writer struck twice. With Bapasola also getting in the act, the Europeans slid from 42 for 2 to 47 for 6.
Given the context of the match, Poore's 25 was an exceptional score. In fact, it turned out to be almost a third of 79, which was what the Europeans were skittled out for. It would have been lower, had No. 10 Frederick Clarke not put up a defiant 11 not out.
Bapasola (8-2-9-3) and Writer (21-12-17-4) were the wreckers-in-chief. Between them they sent down 29 overs (24.1 six-ball overs), taking 7 for 26. It was a pair as emphatic as any. All the batsmen had to do was to secure those 87 runs.
But then, there was Raikes to contend with. He struck early, clean bowling MD Kanga. But the Parsees did not worry, for Machhliwala joined Pavri: the two men who had set up the chase against GF Vernon's XI were at the crease.
This time Harry Lowis struck: Machhliwala, the man on whom so much depended, was stumped by Usborne. The score read 6 for 2, and suddenly 87 seemed a substantial target.
Support came from Gagrat, who held out against Pavri. Runs came in a trickle, and slowly the target reduced. Then, with the score on 40, Clarke ran through the defence of Gagrat: he had scored 14.
Stumps were taken at that score. The Parsees needed another 47. Pavri was on 21.
History
DD Kanga played a crucial role on the final morning. Picture Courtesy:
 India's Hambledon Men
, Vasant Raiji
DD Kanga walked out with Pavri the following morning. Trask put Steel, that exponent of right-arm slow bowling, on with the dangerous Raikes. The pair stay put before Raikes removed Pavri — for 34. He would finish as the highest scorer of the match.
On came Steel, and removed Bapasola and Cooper for ducks: from 64 for 3 the Parsees slid to 65 for 6. They needed another 22 when DE Modi joined DD Kanga.
Raikes and Steel kept bowling. Runs were difficult to come by, but Modi and Kanga stayed at the crease. The target came down… 20… 15… 10…
Then, with 8 more to get, Raikes provided another twist by trapping Kanga leg-before. His 18 was worth every bit of it, but the sight of RE Modi walking out to join DE Modi was not particularly encouraging.
Spencer and Writer, rank tail-enders, waited in the pavilion, hoping they did not have to walk out in the middle against the menacing Raikes and Steel.
But the Modis hung on grimly, RE helping DE put on the runs. Then, off the last ball of the 41st over, history was created: the two men walked back, victorious, DE Modi on 14 and RE Modi on 2. And the Parsees, and indeed, other Indians, celebrated the moment.
What followed?
The Bombay Presidency match became an annual affair, both sides fighting tooth-and-nail for supremacy till 1904-05. The Hindus joined the fray in 1905-06. From 1907-08 all three teams featured, and the tournament was renamed Bombay Triangular. It later became the Bombay Quadrangular when the Muslims joined in 1912-13. A fifth team, The Rest, was added in 1937-38, to accommodate Buddhists, Jews, Sikhs, non-European Christians, and even the Ceylonese. The Pentangular was not contested after 1944-45.

Pavri, easily the first great Indian cricketer (if one does not consider Ranji, who did not play in India), went from strength to strength. From 62 recorded matches he claimed 245 wickets at 15.04. On June 13, 1895 he became the first Indian cricketer to play in the County Championship when he played for Middlesex against Sussex at Hove.

As for Raikes, he played only 9 matches, capturing 49 wickets at 10.28. However, he moved on to bigger things: he was a member of the Bar at Inner Temple and at the Indian Bar in Bombay. He was also Company Secretary of Norfolk British Red Cross.
Brief scores:
Europeans 108 (ME Pavri 3 for 25, RE Modi 3 for 20) and 79 (Nasarvanji Bapasola 3 for 9, Dinshaw Writer 4 for 17) lost to Parsees 101 (Ernest Raikes 7 for 34) and 87 for 7 (Ernest Raikes 3 for 45) by 3 wickets.
Abhishek Mukherjee
Cricket Country, October 29, 2015, 7:30 am
http://www.cricketcountry.com/articles/1892-93-parsees-beat-europeans-to-win-first-ever-presidency-cup-346741
(Abhishek Mukherjee is the Chief Editor at CricketCountry and CricLife. He blogs here and can be followed on Twitter here.)