Creatively coupling
"In earlier times some families were cricket teams. Surely you can manage a carom foursome?" This provocative message was among a series of 17 print commercials ingeniously created by Madison World to draw the attention of Parsi couples to the Jiyo Parsi initiative that hopes to reverse the decline in community numbers with a change in mindset and medical intervention. The launch of the media awareness campaign at the Sir J. J. Modi Hall of the K. R. Cama Oriental Institute on

November 10, 2014

mirrored the eccentricities and lifestyle of this fun and food loving community that accords a low priority to marriage and procreation.
  Jiyo Parsi campaign initiators: Dr Shernaz Cama (left) and Sam Balsara
Initiated by the Parzor Foundation and the Bombay Parsi Punchayet (BPP), with Rs 10 crores financial assistance from the Ministry of Minority Affairs, Government of India, the Jiyo Parsi program has been supported by the Tata Institute of Social Sciences and the Federation of the Parsi Zoroastrian Anjumans of India. The Jiyo Parsi effort involves a two-pronged approach: the advocacy component to reiterate the need for early marriages and consequent increase in family size; plus fertility treatment for the couple with financial reimbursement up to Rs 5,00,000 depending on the family's annual income. Following the launch of Jiyo Parsi on
September 13, 2013
, they were able to report on the birth of twins, a baby girl and nearly half a dozen successful conception stories. Their target in the next five years is to assist "at least 150-200 couples overcome fertility issues."
As reminded Dr Shernaz Cama, director of the UNESCO Parzor project, "Jiyo Parsi is not just to increase our numbers but to value ourselves. We need to grow by laughing again." Referring to the Jiyo Parsi logo specially created by Behram Sidhwa of Poona who won their logo competition, Cama commented that his adaptation of a fravashi is "open-hearted and all embracing. That's what we Parsis were and hopefully will be again."
For the awareness campaign that was masterminded by Madison, Cama gave credit to its chairman and managing director Sam Balsara for being "brilliantly creative, perfectly rational." Appreciating that he made time "for every meeting and answered every email without charging a single penny for the campaign," Cama acknowledged that although "the community cannot afford his services, we cannot afford to be without him." The credit for Prime Minister Narendra Modi and the Bharatiya Janata Party's phenomenal popularity in India and the US having been publicly attributed to Madison's media magic amongst others, Cama jested, "Half of Delhi believes Balsara's Madison owns Madison Garden (in the US)" where Modi's speech this summer received global coverage.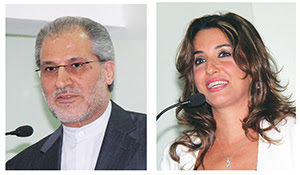 Masood Khaleghi (left) and Perizaad Zorabian
For the Zoroastrian community that traces its origins to Iran, the presence of Masood Khaleghi, consul general of the Islamic Republic of Iran, as the chief guest at the function was a reminder of its glorious past. Commenting on the media campaign that urges early marriage and more children in one's own interest, and not as a favor to the community that would like to bolster its numbers, Khaleghi recommended "an equilibrium" between individualism and community loyalty. "There might come a time when one might have to sacrifice one's life for the cause of the community or country," he stated. Despite 200 births and 800 deaths in a year, as per figures shared by Parzor, "the community is in safe hands although simple calculations would indicate the end of the road for the community," observed Khaleghi, adding, "They have truly been the sugar in the milk. I am sure they will continue."
His comment was particularly relevant in light of one of the media campaigns that showed a group of five, merry, elderly Zoroastrians outside the Bhikha Behram Well with the catchline reading: "The milk is in grave danger of running out of sugar." The reference, of course, was to the popular lore where a band of Zoroastrian refugees from Iran supposedly convinced the ruler on the western coast of India that they would never be a burden to his kingdom but would assimilate with the locals like sugar in milk.
Guest of honor Perizaad Zorabian, Bollywood actress and businesswoman who is one of the two brand ambassadors for Jiyo Parsi, won over the general media when she related "the advantage of being a Parsi girl with liberal parents who placed no pressure on her to get married early." Admitting that "it is not very easy to find a Parsi boy," she stated that she met husband Boman Irani, chairman and managing director of Rustomjee Group "by fluke." Considering that she got married at the age of 33, had her first child at the age of 34 and a second child soon thereafter, she wondered whether she deserved to be the brand ambassador for Jiyo Parsi. To the amusement of the crowd she narrated how when well meaning family and friends now remind them that the community needs more children, Boman promptly turns to her and says "Perizaad kai kar (do something)."
With her daughter having just undergone surgery, Zorabian arrived nearly half an hour late at the venue during which time Cama announced that "she has been an inspiration for all of us in the community on how to balance life, work and family." In fact her daughter's hospitalization made her cancel a business engagement in Dubai during the weekend, but to Zorabian the joys of motherhood relegated all sacrifices to the background. Occasionally Perizaad and Boman wish that they had met each other earlier, but barring that "I would not like to change anything in my life," she claimed.
  (From left, standing): Dr Rustom Soonawala, Anahita Desai, Lara Balsara, Dr Shernaz Cama, Dr Katy Gandevia, Arnavaz Mistry, Sam Balsara, Dinshaw Mehta, Armaity Tirandaz, Dr Anahita Pandole; 
  (sitting) Behram Sidhwa, Perizaad Zorabian, Pearl Tirandaz
 Yezdi Tantra (above) and Pearl Mistry; a section of the audience
Another youth icon who took the stage was Lara Balsara, executive director of Madison World. She explained that the two main reasons for creating this advertising campaign despite knowing that "the audience is so limited" was to "create a wave" and impress on the reader that "the matter is urgent." Parsis have a rich culture and idiosyncrasies. Using them to make fun of ourselves without sermonizing, the campaign has accordingly been divided into four sections with the first holding a mirror to the absurd attitudes towards marriage nurtured by single members of the community. With 'young' Parsi men refusing to cut the umbilical cord till well past 40, the first message read, "Isn't it time you broke up with your mom?" The second section urges couples to marry early and procreate quickly, one of the reasons being "Your grandfather's 1955 Fiat. Your other grandfather's 1976 Yezdi. Your dad's 1982 Gold Rolex Oyster. Who is going to inherit all of it?" The third section appealed to parents to have more than one child with messages like "Don't leave your child to face the world alone." The last section urges those who have problems conceiving and in need of financial assistance to approach the Jiyo Parsi initiative for "It's never too late to have a baby. Even by Parsi standards."
Recapitulating the relevant statistics concerning the community in India, Jiyo Parsi counsellor Pearl Mistry who Cama introduced as "our star with three babies," reminded the gathering that 30% in the community never marry, the average age of brides is 27 years and of grooms, 30 years. Whilst the death rate in the community is 1.8, for the rest of India it is 0.9. The birth rate for those who have married is 0.88. She was happy to announce that the Facebook page of Jiyo Parsi earned 1,800 "likes" in the last few days.
Most questions from the media representatives broached the subject of interfaith marriages: "What message does the scheme send to young Parsis in love with non-Parsis?" "Did you consider opening up the Jiyo Parsi scheme" to include Parsi women who have married out? Why is a non-Parsi daughter-in-law not regarded as a Parsi? Cama sought to convince them that "We have full respect for every religion but with regard to our own religion… if we had tried to proselytize we would have died out… This being a Government of India sponsorship, we are expected to work within the parameters open to us" and abide with the prevailing laws of Parsi Marriage and Divorce under which only a child of both Parsi parents or a Parsi father is recognized as a Parsi. She cited Zubin Shroff's study at the Harvard School of Public Health which categorically proves that the decline in community numbers is due to low fertility and not intermarriage. Rather than pursue the discussion on "this red herring," she urged the media "to talk about Jiyo Parsi."
Nergish Sunavala of The Times of India complained that she "found it offensive" to see one of the campaigns showing the agiary in Dadar with "Hindu Colony" signage outside the walls and the catchline, "If you don't get married and have kids, this area will have a new name in your lifetime." Sunavala felt the advertising campaign should have shown "sensitivity towards the country" which has given us a home. Whilst offering to take a relook at this advertisement before running it, Sam Balsara clarified that the Advertising Standards Council of India ensures that no advertisement offends large masses. "Good advertising has to offend someone to work; otherwise it is not called advertising. We can't please everyone… For every advertising campaign I have a limited audience." Advertising works best when you appeal to an individual to 'do' certain acts for him/herself.
Other community members like Godrej Dotivala, public relations officer of the BPP announced that the BPP matrimonial bureau has succeeded in bringing together 17 couples with three more marriages due in December. Viraf Mehta of the Zoroastrian Youth for the Next Generation referred to their matchmaking efforts through Speed Dating and their online initiative Being Cupid. Ervad Yezdi Panthaki regretted that the community has lost out on the values of a joint family whilst Havovi Dotivala felt efforts should be directed towards changing the attitude of marriageable women who are unwilling to compromise or adjust with in-laws. Author Marzban Giara cited Sapur Desai's book A Community at the Cross-road which ascribes the demographic drop to a change in attitude. Pointing out a woman's involvement in bringing up her children, senior gynecologist Dr Rustom Soonawala regretted that his Gujarati daughter-in-law has to wait outside when taking the children to the fire temple. He advocated "opening up our temples" to permit entry to non-Parsis.
The campaign has different messages targetting those in the marriageable age with "unrealistic expectations and demands" to opt for early marriage and children in their own interests as also those of their parents, partner, child, legacy. Summed up Cama, "We hope the campaign will make you start thinking."
Parinaz Gandhi
Parsiana,
November 21, 2014
, Pages 29. 30 & 31.