Young Soccer Star Arzan Todywalla from New Zealand Strikes Again
15 year old Arzan Toddywalla of Auckland, New Zealand has had the privilege of going to the United Kingdom thrice in last three consecutive years, and it has all been due to his immense passion & talent for football.
Article by Rashna Dorab Tata
The first international highlight in Arzan's career occurred in 2014, when he was selected for trials at the Birmingham City Football Club. An opportunity that very few youngsters at that age, would ever achieve. Looking at his immense potential, the Birmingham Football Club coaches selected him to play two games on behalf of their club. His team won both games and Arzan scored two goals in his debut game, amongst a team of very talented international young players.
In 2015 the Birmingham Football Club invited Arzan again for 3 weeks of elite training and the opportunity to play for them again. This time too, the club won all three games and Arzan made very significant goals in 2 games, which left club coaches and officials in doubt about his immense talents.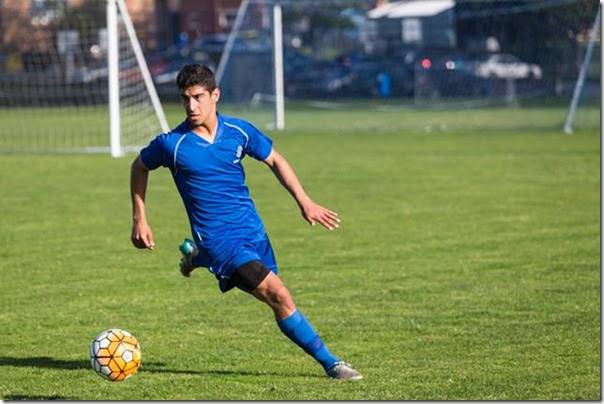 Arzan has made his third trip this year in July. He was selected to represent New Zealand at the famed international youth football tournament, the Super Cup NI 2016 ( formerly known as Milk Cup NI )The Super Cup NI  tournament is an international tournament, started in 1983 with 16 teams from neighbouring countries. Today this tournament has grown to accommodate more than 50 teams, from across the continent representing six FIFA Confederations.
A select group of young footballer players from New Zealand were sent on a once in a lifetime tour of Europe. They visited London and Barcelona, where his team played matches against professional teams in both cities.
Arzan won recognition as the "Star Player" and was also awarded "Player of the Tour" by AM Sports Tours, for being the highest goal scorer, in the Under 16 MS Select New Zealand Team.
He scored a hat-trick against the Alset, Columbia team and was awarded the Alset Columbia Football Club flag as he was declared "Player of the Day". Arzan's team were also  the "Salver Medal Winner" at the Super Cup, in Northern Ireland in 2016.
His consistent wins and awards speak well of  the high regards, international coaches and talent scouts hold this budding footballer in. His talent & sporting abilities, his dedication & passion for the game have been recognized & acknowledged at every game he has played.
He is fast gaining a name for himself both nationally and internationally, as being one of the best soccer players of his age. One of his coaches has gone so far as to name him "The Goal Machine"
He over delivers at every game he plays in, and is being watched keenly by international bigwigs. In a few years Arzan Todywalla is a name the football world, will be very familiar with.
The small but thriving Zoroastrian community of New Zealand, will have one more reason to celebrate and be proud of one of their own !!
In 2014 Arzan was awarded the "Best Young Sports Achiever Male" ( Under 14 years ) as well as the "Excellence in Pursuing Sports Award" ( Under 18 years )  at the prestigious Indian Newslink newspaper –  Indian Sports awards in Auckland.
Arzan has  just returned from playing in the Under 16 Squad at the "NZF National Youth Futsal Championship 2016" in Palmerston North in New Zealand. He was awarded the "Golden Boot" in his age group, scoring a staggering 17 goals in six games.  Futsal is a modified form of indoor soccer played by only 5 players. A very fast, creative and technique driven game which again he excels at.
This young lad trains all 7 days of the week. Come rain or shine or biting cold, he is always there at every practice session He already has the rich experience of playing in different states in New Zealand , international clubs & countries and in many different teams Sometimes with players way above his age group but yet he makes a mark in every game
As a student at the prestigious Saint Kentigern College in Auckland, young Todywalla plays striker for the school team and for his football club the Fencibles United AFC.
A prestigious soccer club in Auckland which has recently celebrated it's 20th anniversary. It was a double celebration for the club in its anniversary year , as the Fencibles United AFC emerged as "Champions of the League" and Arzan was once again awarded the " Player Of the Year " for his sportsmanship and scoring the highest number of goals in the season.
Arzan's soccer journey began after he migrated to New Zealand, at the young age of 18 months with his parents Pearl and Viraf Todywalla and elder sister Afrin.  The young parents like all new migrants went thru their fair share of struggles, but never lost track of the fact that they were here for a better future for their children.
It was on his third birthday that Viraf noticed his son kicked his ball at the speed of a rocket. Recognizing his raw talent & positive that there was more to this, his parents were convinced that their son possessed some unexplained skills & were curious to take it further.
They admitted him to the very popular and well recognized Fencible's United AFC Soccer club when he turned six. It was a decision they have never regretted.
They expected a couple of years practice and the hard yard, would take their son further and maybe he would even win some small awards. Not for a moment were they prepared for what lay ahead !!
Arzan proved himself in the very first year itself, wining the "Golden Ball award" and there was no stopping him after that His proud and supportive parents are with him, at every step and encourage him to achieve well beyond his own aspirations and ability. They have pushed him hard and pushed him well. They had full faith in the raw talent their son possessed.
Arzan has lived up to every expectation and much more !!
He has trained with some of the finest coaches in New Zealand and joined the Coerver Coaching New Zealand Club, to hone and polish his soccer skills using a method developed by Netherlands Champion UEFA Cup winner, Weil Coerver.  He also plays Futsal ,an indoor soccer game.
He has represented New Zealand in the Futsal Tournament held in Australia & twice won the title of "All Star", which is given to the best player and highest goal scorer of the team. He was initially trained by Zhang Jiong. Currently he is being trained by Marvin Eakins and Myron Manickum.   He also trained under Roger Wilkinson at the Premier Skills Academy.
All this came at a huge financial cost to his parents, who never once shirked from their obligations to their talented son. It also involved many hours of practice and training each week for Arzan, managing his playing, along with his school work which has never been allowed to suffer.
When he was younger his parents spent every weekend driving him to games far and near and were there on every sideline to cheer him and  his team through & they remain at every game even today. Arzan considers his coaches Justin Green and Roger Wilkinson at Fencible's as his mentors. They have prepared Arzan both mentally and physically for the certainty of a challenging  international career.
His long hours of practise, strategy discussions and intense playing tactics, has today put him in the category of top players in New Zealand. He has carved out a name for himself in the international arena as well. His family is his pillar of support , but the expenses involved when you turn professional are astronomical and way above most families means to cater on their own. It is hoped that the community and concerned sponsors will one day recognise and help Arzan bring his talents & career to total fruition .
It is certainly a first for the Zoroastrian community worldwide, to one day have a budding international Zoroastrian football player. This talented youngster will make his mark as a major player in the international field and a career with the best and most renowned soccer clubs in the world. Arzan is hugely motivated and has the tough mental capacity and tenacity to never give up on his dreams !!
He is at that stage in his life where, very soon name and fame will be his companions for life. This level headed boy will certainly take all of this and international fame and pressure  in his stride.
The author Rashna Dorab Tata is Past President of The Zarathushtrian Association Of New Zealand and Trustee World Zoroastrian Association – New Zealand
Young Soccer Star Arzan Todywalla from New Zealand Strikes Again